The first time I watched Mandelorian, I just fell in love with Baby Yoda! He is super cute, but this Baby Yoda Puppet is just as cute! Not only is it super cute, but kids will love making it.
I am an Amazon Associate, I can earn from qualifying purchases.
Why Puppets are Good for Kids
Puppets are great for kids whether they are bought in the store, or you make them yourself. Here are just a few reasons puppets make great toys for kids:
They stimulate imagination. The most obvious reason puppets are great for children is that they allow them to use their imagination and creativity.
Puppets help with emotional development. Puppets become a "friend" for the child. This helps them to share their feelings and emotions without coaxing.
Puppet play improves fine motor skills. While your child uses their hands and fingers to move the puppet, they are building those fine motor skills which is key for writing later on.
They teach proper etiquette. Using puppets is a great way to teach kids how to say please and thank you as well as other social skills.
Puppets boost confidence in children. As children use their puppets, they are building communication skills which also builds a child's confidence in public speaking and reading.
What You Need to Make a Baby Yoda Puppet
Quick dry tacky glue or school glue
Baby Yoda Template File
Print the Baby Yoda Template file of your choosing.
How to Make Baby Yoda Puppet
Step 1: If printing with cutting machine, upload the correct file to your software.
Step 2: Resize the images to fit 5 to 6 inches wide, depending on the width of the paper bag.
Step 3: Select to print and cut. Be aware that the SVG and EPS files are in black and white.
Step 4: If you choose to print in color, you will need to set those colors within your software manually.
Step 5: Glue the collar pieces under the bottom of the bag and the cuff pieces to the hands.
Step 6: Glue the head and ears onto the bottom of the bag.
Step 7: Glue on the round cheeks.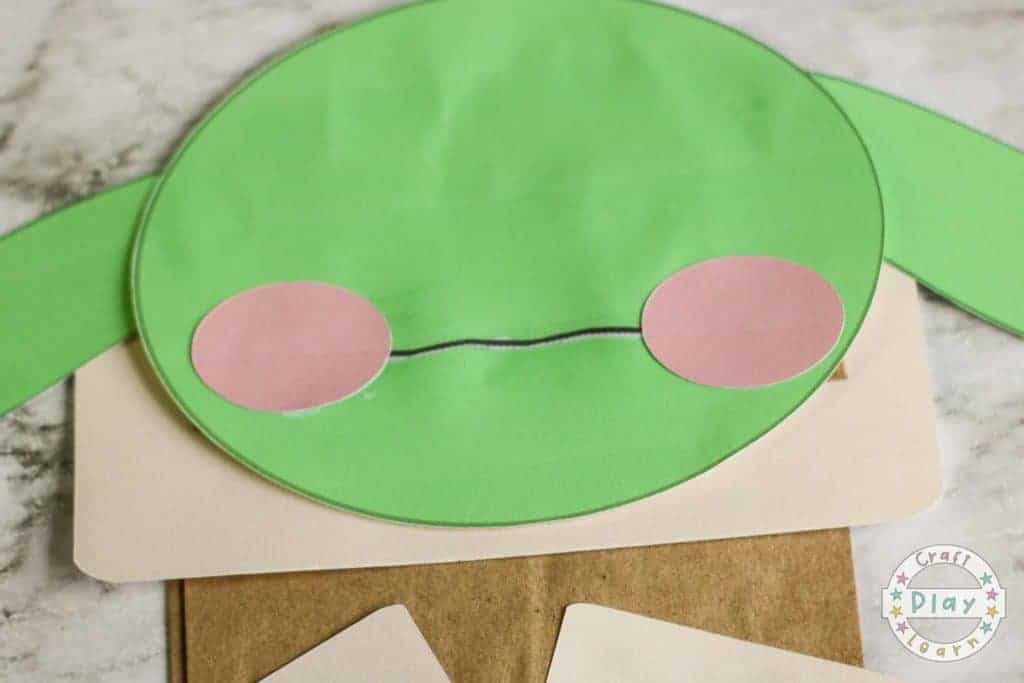 Step 8: Glue eyes, nose, and draw a mouth between the cheeks.
Other Crafts to Do
If you have kids who love Star Wars, you can try some of these other Star Wars crafts, too!
Sharing is caring! Don't forget to pin this to Pinterest for others to enjoy!
Busy now? Why not pin this fantastic resource for later? Pinning supports my blog and allows me to create more content to help little ones learn. I'm truly grateful for any social shares.
About Angela Milnes
Angela Milnes is a Qualified Early Years Teacher who specialised in Preschool and Kindergarten teaching. She has a wealth of experience teaching young children and is passionate about kids crafts, preschool music and reading with kids. Don't forget to follow our fun crafts and creative ideas over on Facebook.