Mickey Pumpkin Halloween Decoration
Today on Craft Play Learn we have a super fun and easy Mickey Pumpkin themed Halloween Decoration. Shaped as Mickey ears this super fun craft is a great idea for the little ones at home or at preschool. It's simple easy and comes with a free Mickey halloween template.
This is a fun kids craft that uses glitter and glue and is fantastic for developing fine motor skills and fostering creativity in kids.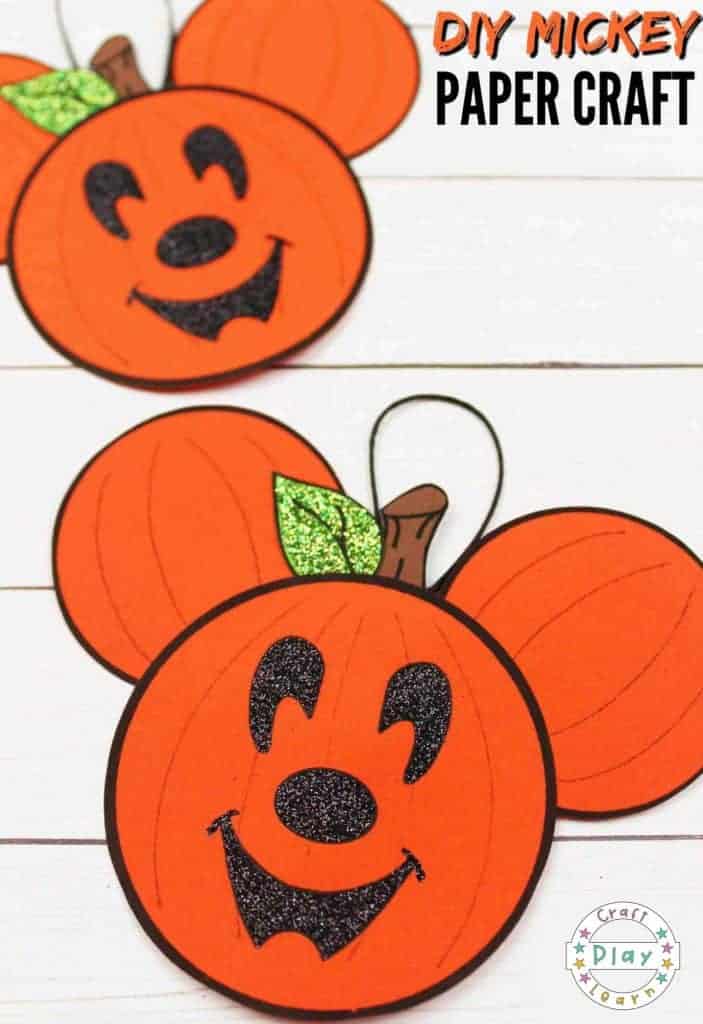 I am an Amazon Associate, I can earn from qualifying purchases.
Supplies Needed For This Mickey Ears Craft
How To Make This Mickey Mouse Craft
Download and print out the pumpkin Mickey head ornament template.
Pay close attention to the colours the PDF instructs you to print each page on.
Start assembling the Mickey pumpkin ornament by gluing the ears behind the face. You can use a glue stick or PVA glue the choice is yours. I find a glue stick less messy but either will work for this fun paper craft decoration.
Next add the stem and leaf on top of the Mickey mouse head. This creates the effect of a Pumpkin and looks great between Mickey's ears.
Carefully add white glue to the areas you'd like to glitter. PVA glue is great for glitter and it will dry super fast.
Add glitter and shake off the excess. If glitter is not your thing, you can absolutely leave this part out of the process. You might want to make one as an example and allow the kids to get creative and add glitter where they choose.
Once the Mickey pumpkin decoration is complete, cut a small piece of thread or ribbon and loop it to create a hook.
Glue the ribbon or twine behind the pumpkin.
If you'd like to cover the glued ribbon, simply add a circle the same colour as the pumpkin to the back and the decoration is complete.
Your DIY Mickey Mouse halloween ornament is done and ready for your Halloween tree! If you don't have a tree, maybe try hanging your Mickey ornament somewhere else in the home. I'm sure wherever you choose to hang this, it will look great.
Download Your Mickey Halloween Template Here
Busy now? Why not pin this fantastic resource for later? Pinning supports my blog and allows me to create more content to help little ones learn. I'm truly grateful for any social shares.
About Angela Milnes
Angela Milnes is a Qualified Early Years Teacher who specialised in Preschool and Kindergarten teaching. She has a wealth of experience teaching young children and is passionate about kids crafts, preschool music and reading with kids. Don't forget to follow our fun crafts and creative ideas over on Facebook.