Olaf Christmas Ornament Craft
As a child, one of my favourite memories with my mum was making Christmas ornaments together. It was a fun way for us kids to contribute to the decorating of the tree, and it was a tradition we could carry on as we got older. Even though Frozen has been out for some time, its popularity has not worn off and we are really excited about the upcoming release of Frozen Two.
I am an Amazon Associate, I can earn from qualifying purchases.
That's why this Olaf Christmas Ornament Craft is perfect for your Christmas tree this year! Frozen is huge at the moment and a big hit with the little ones! Check out our Anna craft and our Elsa craft too!
You can make this ornament using only a few supplies. If you don't have them at home, click on the link below so you can easily grab everything you need from Amazon.
How to Make a Frozen Olaf Christmas Ornament Craft
This Frozen Olaf ornament craft is super easy to make. You can do this with even your littles this Christmas season. In fact, this is a great craft to build those fine motor skills to help get your little ones ready for school.
Step One
Download and print out the Olaf Mickey Head ornament template.
Step Two
Cut out your Frozen Olaf template and set aside.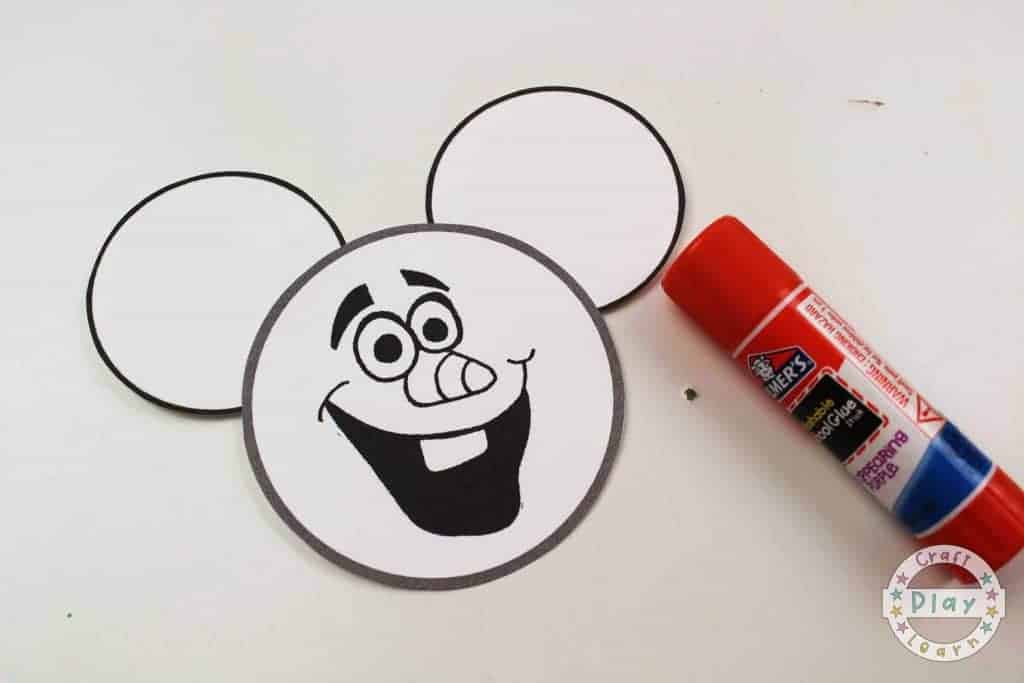 Step 3
Glue the pieces together with a glue stick. Use the photos as a guide.
Add white school glue to Olaf's ears and nose.
Step 4
Next sprinkle on glitter and shake off the excess. This will give your Olaf ornament some extra sparkle to stand out on the Christmas tree.
Allow the glue to dry completely.
Step 5
Flip over your Olaf ornament and add a bit of white school glue to the back. Loop a piece of string or ribbon and glue in place. Allow the glue to dry completely.
Download Your Frozen Olaf Template Here!
Don't forget to pin this cute Olaf craft to Pinterest so you can find it year after year!
About Angela Milnes
Angela Milnes is a Qualified Early Years Teacher who specialised in Preschool and Kindergarten teaching. She has a wealth of experience teaching young children and is passionate about kids crafts, preschool music and reading with kids. Don't forget to follow our fun crafts and creative ideas over on Facebook.