DIY Mickey Mouse Ears Paper Craft, Ornament or Disneyland Invitation
Today I have the cutest Snow White themed DIY Mickey Ears Craft idea! This is so cute and would be great as an invitation or as a Disney themed Mickey Mouse Ornament.
We do love Disney Mickey Mouse Ears here on Craft Play Learn. In fact my daughter and I wore the cutest Mickey ears to Disneyland last year. 
These construction paper Mickey OR Minnie ears will make a fun activity and will make a fantastic Disney Mickey Ears ornament.
Alternatively you could use these as party invites to Disney World or as a Disneyland Paris invitation. Even better you could use this Disney Mickey Ears template as an Invitation from Mickey to Disney World.
Now that would be awesome!
I am an Amazon Associate, I can earn from qualifying purchases.
Supplies For This DIY Mickey Ears Paper Craft
How To Make Mickey Mouse Ears With Construction Paper
Download and print out the Snow White Mickey Ears template.
Cut out your diy Mickey ears template and set aside.
Glue the pieces together with a glue stick using the photos as a guide.
Before you glue on the Minnie Mouse bow, add white school glue to the marks on her sleeves.
Sprinkle on red glitter and shake off the excess.
Allow the Diy Mickey Mouse ears to dry completely. Glue the white Snow white collar to the back of the Mickey mouse ornament.
Glue the red bow onto the front of the craft between the Mickey Ears.
Flip over the ornament and add a bit of white school glue to the back.
Loop a piece of string or ribbon and glue in place.
Allow the glue to dry completely.
You could also laminate this Snow White Mickey Mouse ornament so it can last longer!
You might want to make a whole heap of different designs. I'll be sharing more in the upcoming weeks!
Just imagine a whole lot of Disney Ornaments on your Christmas tree! That would be fantastic!
We have so many for you to choose from including a fantastic disney beast and belle paper crafts and the little mermaid and ursula crafts.
Download Your Free Mickey Mouse Ears Template Here!
Busy now? Why not pin this fantastic resource for later? Pinning supports my blog and allows me to create more content to help little ones learn. I'm truly grateful for any social shares.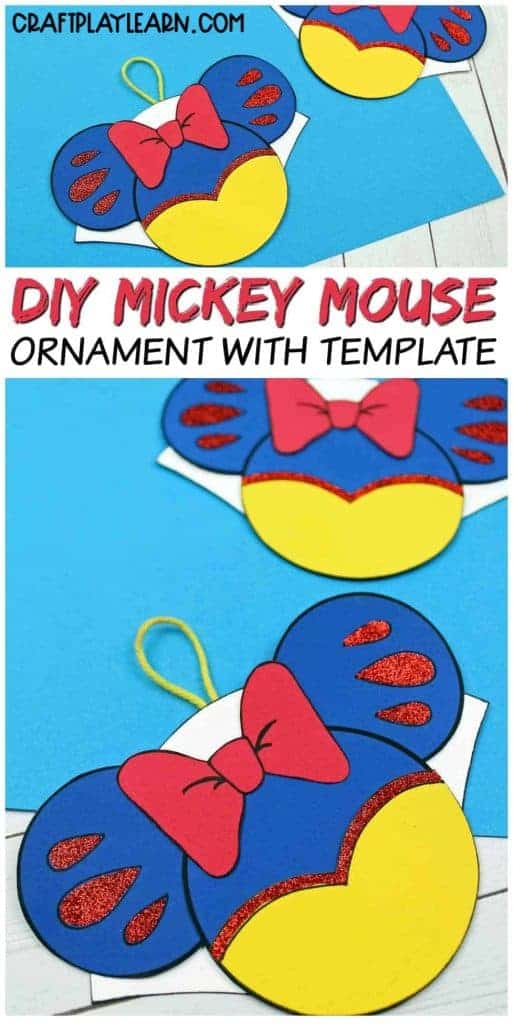 About Angela Milnes
Angela Milnes is a Qualified Early Years Teacher who specialised in Preschool and Kindergarten teaching. She has a wealth of experience teaching young children and is passionate about kids crafts, preschool music and reading with kids. Don't forget to follow our fun crafts and creative ideas over on Facebook.