Penguins are cute and cuddly, and perfect to introduce your little toddler to if you're teaching him about animals and birds. And what could be a better way to do that than to try a simple yet interesting penguin craft activity with him?
With a few supplies, you can try this easy activity at home, and get your little one inspired to learn more about these birds.
So what are you waiting for- read on and get started!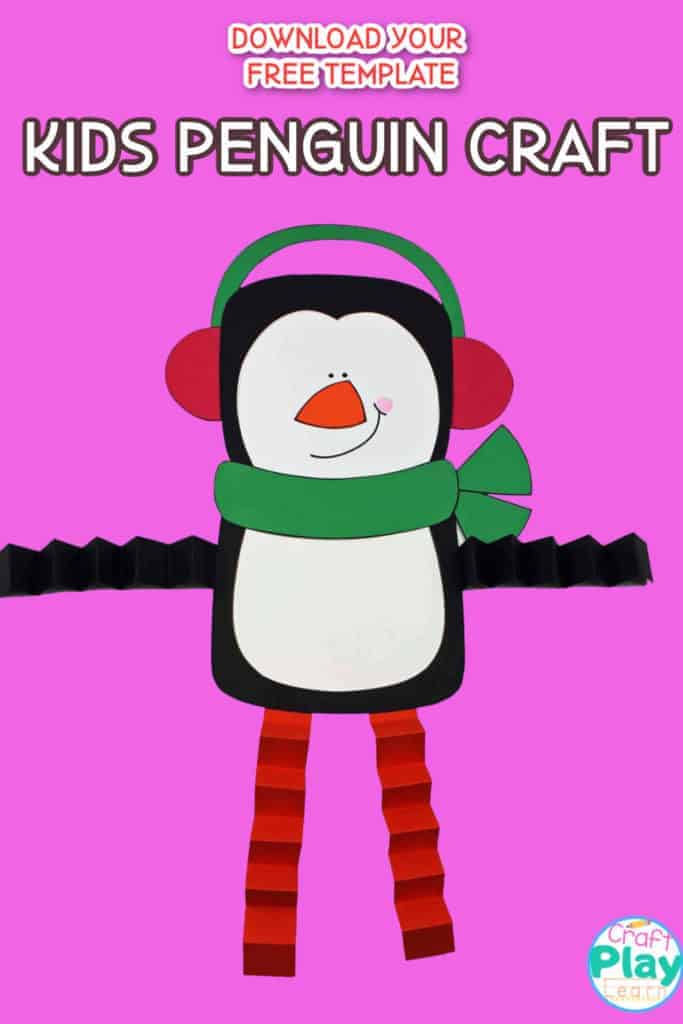 I am an Amazon Associate, I can earn from qualifying purchases.
Supplies Needed For This Paper Penguin Craft Idea
Just like most other craft activities here on Craft Play Learn, this one too, needs minimal effort and supplies.
How To Make A Paper Penguin Craft
Download and print out the template. You may print the template onto the suggested colors of paper or use the template as a stencil and trace onto paper. You can even print onto white paper and color the template in!
Cut the template out. Assemble the craft and secure with glue.
Cut 2 inch wide strips of paper. Create an accordion fold in the paper going back and forth long ways. Glue the accordion arms and legs onto your assembled character.
Your craft is finished!
These would make amazing bulletin board crafts. Just picture all of the cute characters hanging around together! Have fun with these. Customize them with colors you'd like. The possibilities are limitless!
Fun Facts About Penguins
Got your kid interested in this penguin craft activity? Also introduce him to these amazing facts along with it to make the most of the process.
Penguins are flightless birds. They spend most of their time in water.
Their wings are more like flippers, which makes them excellent at swimming.
Penguins mostly eat fish, and sometimes squids and octopuses too.
Some penguins can sleep even when they are standing.
Penguins have excellent eyesight and hearing abilities.
Penguins drink saltwater.
Baby penguins are not black and white, but actually brown and fluffy.
And as promised, here's a quick download link for you to grab the penguin template and get started on this fun filled craft activity.
And if your little one loved this fun activity, and you're on the hunt for some more similar ones, I've got that sorted for you too! Just use the quick links below.
For more fun and easy Christmas paper crafts here on Craft Play Learn, check out the following:
Busy now? Why not pin this fantastic resource for later? Pinning supports my blog and allows me to create more content to help little ones learn. I'm truly grateful for any social shares.
About Angela Milnes
Angela Milnes is a Qualified Early Years Teacher who specialised in Preschool and Kindergarten teaching. She has a wealth of experience teaching young children and is passionate about kids crafts, preschool music and reading with kids. Don't forget to follow our fun crafts and creative ideas over on Facebook.