Gingerbread houses and men are fun treats to make at home, and enjoy with your little one, but what if I told you, you could also make it better with a craft activity?
Whether it is Christmas time or not, your little one probably loved gingerbread cookies, and that's exactly why this gingerbread girl craft activity can be an excellent one to keep him busy. Just scroll down below and get started on this activity and make the most of it, with some cool tips and quick links that I've included below.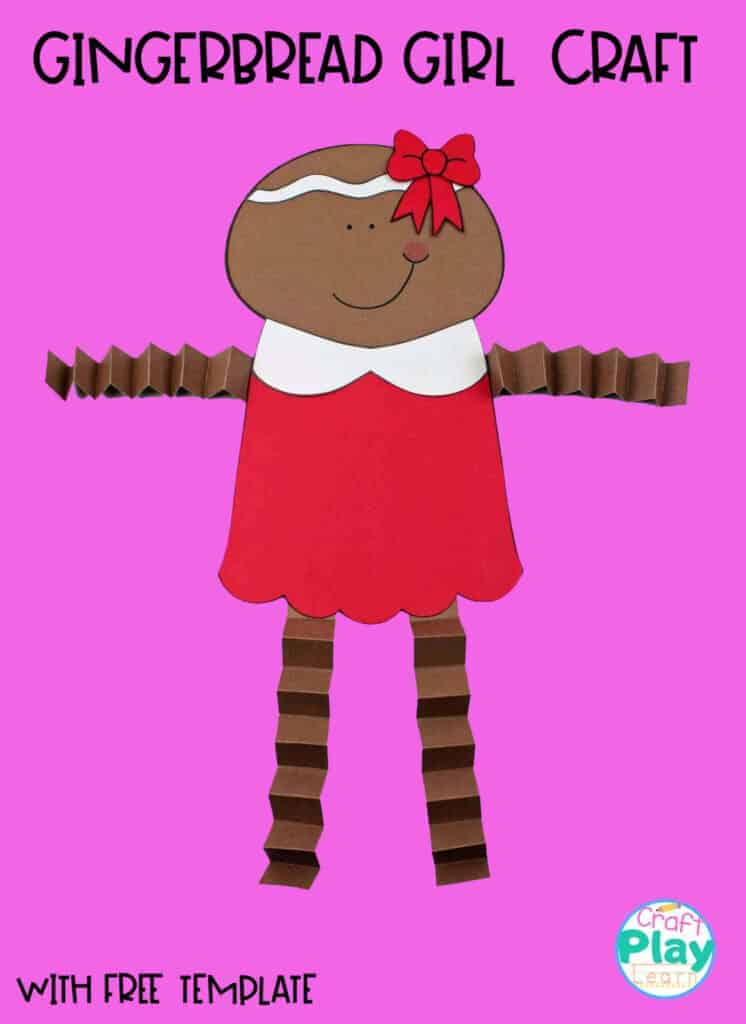 I am an Amazon Associate, I can earn from qualifying purchases.
What You Need To Make A Paper Gingerbread Girl
Like most other craft activities here on Craft Play Learn, this one needs just a few supplies for you to get started, and you probably already have those at home.
How To Make A Gingerbread Girl Craft From Paper
Download and print out the template. You may print the template onto the suggested colors of paper or use the template as a stencil and trace onto paper. You can even
print onto white paper and color the template in!
Cut the template out. Assemble the craft and secure with glue.
Cut 2 inch wide strips of paper.
Create an accordion fold in the paper going back and forth long ways.
Glue the accordion arms and legs onto your assembled character.
Your craft is finished!
These would make amazing bulletin board crafts. Just picture all of the cute characters hanging around together! Have fun with these. Customize them with colors you'd
like. The possibilities are limitless!
And if you're looking for the download link to the free gingerbread girl craft printable, here it is!
You can also use these quick links to discover some more similar fun filled craft activities for your toddler. Time to get crafty momma!
Team these crafts with some good Christmas or cookie themed books as a bedtime read for a more complete learning experience for your little one.
Tips, Tricks & Facts
And of course, there is nothing better than some cool and fun facts to team up along with this craft activity to make your little one engaged and happy.
Gingerbread cookies, at one time, had actual gold decorations on them.
In the 16th Century, Queen Elizabeth had her bakers shape the gingerbread cookies in the shape of the guests arriving at her home's parties, and from then on, these cookies became very popular among the royal families.
In some versions of the recipe, gingerbread is often sticky and contains molasses.
The world's largest gingerbread man weighed around 651 kg.
The most common decorations used to decorate gingerbread men are icing, gum drops and raisins.
And if you're thinking of stocking up on some craft supplies for these activities, use the quick links below and you should be pretty much sorted.
For more fun and easy Christmas paper crafts here on Craft Play Learn, check out the following:
Busy now? Why not pin this fantastic resource for later? Pinning supports my blog and allows me to create more content to help little ones learn. I'm truly grateful for any social shares.
About Angela Milnes
Angela Milnes is a Qualified Early Years Teacher who specialised in Preschool and Kindergarten teaching. She has a wealth of experience teaching young children and is passionate about kids crafts, preschool music and reading with kids. Don't forget to follow our fun crafts and creative ideas over on Facebook.