Step By Step DIY Tutorial With Free Penguin Bookmark Template
Today I am excited to share this fantastic Penguin Bookmark craft here on Craft Play Learn. Making a DIY bookmark is always fun and a great way to get kids to mix crafting and literacy.
This easy bookmark idea is simple enough to make with preschool kids and our penguin bookmark tutorial will show you step by step how to make a paper bookmark with ease.
This penguin craft is super cute and has cute googly eyes. Gluing, cutting and sticking are great ways to help children develop fine motor skills and this penguin craft can be used to encourage reading and a love of books. Enjoy!
I am an Amazon Associate, I can earn from qualifying purchases.
Supplies Needed For This Easy Penguin Craft
List of Supplies: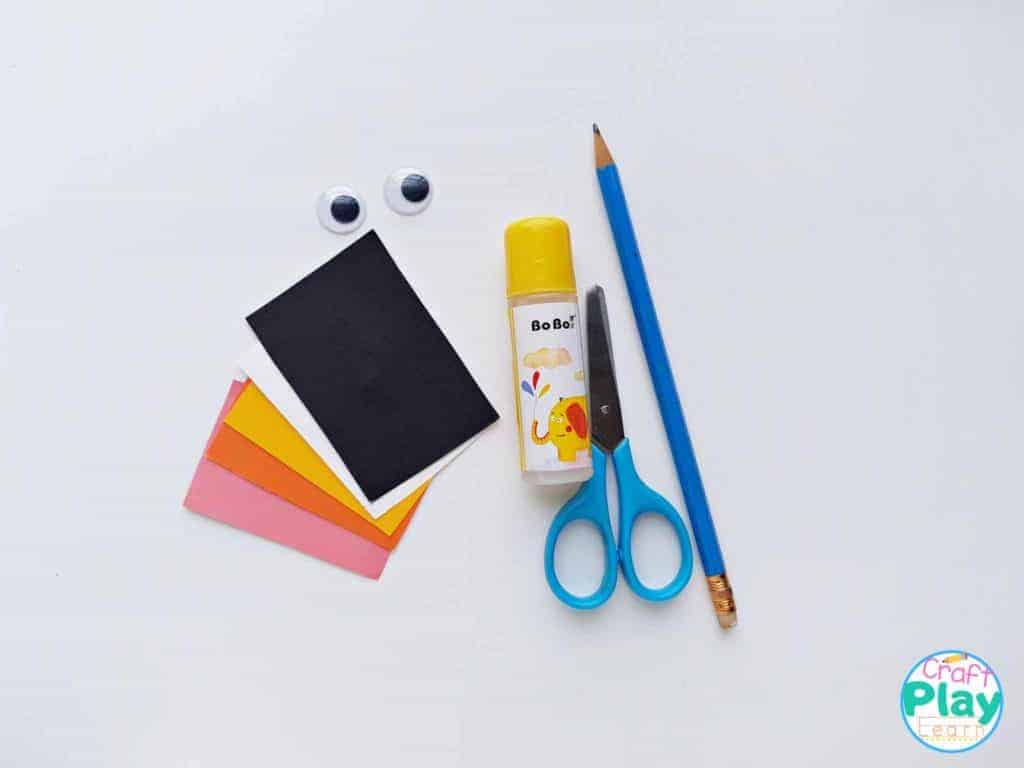 How To Make A Paper Bookmark (Penguin)
Step -1:
Select black, white and orange craft papers for this penguin craft. Trace the outer base and flippers of the penguin on black colored paper and trace the beak (a small triangle) and the feet on orange colored craft papers. Cut out the traced papers.
Step -2:
Attach the inner base (white) on the outer base.
Step – 3:
Attach the feet on the bottom side of the outer base of the penguin. Grab the 3 small cut outs (the one with scallop border and the 2 small round cut outs). Arrange the cut outs one by one; keeping the small ones on the top of the big ones.
Step – 4:
Apply a drop of glue on the top tip of the flippers and attach the glued part on a side of the main base.
Step – 5:
Similarly, attach the other flipper. The bottom side of the flippers should be free from glue.
Step – 6:
Attach the googly eyes and beak. Use a pink highlighter to add blushes on both cheeks.
Step – 7 final images
Use a colored craft paper to make the hats and attach it on the top of the penguin's head.
How To Make a Penguin From Fabric?
If you want to try something different, you may want to make a fabric or material penguin, especially with the older kids. Making a fabric bookmark can be really fun and you could use our free penguin template to create a material bookmark.
Simply switch out the cardstock or paper for materials and use a needle and thread instead of glue! Why not give it a go! I'd love to hear how you get on!
Download Your Free Penguin Bookmark Template Here!
Looking for some fun books to read with the kids? Here are a few of our popular book lists that you make find super useful!
The Best Dinosaur Books For Preschool Kids
The Best Princess Books For Kids To Read
Crocodile and Alligator Children's Books
Children's Books About Siblings
The Best Dentist Books For Preschoolers
Fantastic Children's Christmas Books To Read
Busy now? Why not pin this fantastic resource for later? Pinning supports my blog and allows me to create more content to help little ones learn. I'm truly grateful for any social shares.
About Angela Milnes
Angela Milnes is a Qualified Early Years Teacher who specialised in Preschool and Kindergarten teaching. She has a wealth of experience teaching young children and is passionate about kids crafts, preschool music and reading with kids. Don't forget to follow our fun crafts and creative ideas over on Facebook.