Here is a super fun and easy Stingray Craft with free template.
If your looking for a Stingray craft for kids then look no further. Today I am sharing this super fun stingray arts and crafts idea which I'm sure you will love.
I have to admit, I've not seen too many Stingray craft ideas around, yet they great sea creatures and ones I find quite fascinating. The first time I saw a Stingray was at Kelly Tarltons, a Sealife centre in Auckland, New Zealand.
Since then we have visited many Sealife centres around the UK and the Stingray is always an amazing sea creature to view. I hope you enjoy this Ocean craft for preschoolers.
I am an Amazon Associate, I can earn from qualifying purchases.
Stingray Facts For Kids
A Stingray is a cousin to the shark. A stingray does not have any bones but is made of cartilage.
There are several different types of stingrays. Some live in the ocean, in deep water such as stingarees and round rays, however some stingrays live in rivers for example the river stingray.
Altogether there are over 70 different stingray species around the world.
Stingrays have flat bodies which are great for hiding at the bottom of the ocean and a good way for these sea creatures to hide from predators.
Stingrays can be eaten by larger fish, sharks, seals and sea lions.
The stingray has eyes on the top of their flat surface. Their mouth and stingray gills along with the nostrils are on the underside of the stingray.
A stingray can live for up to 25 years.
Supplies For Your Stingray Art Project
Printable Stingray template
Supplies For The Watercolor Painting
How To Make A Stingray Craft
Download and print out the stingray template. Cut out and set aside.
Glue the pieces together using a glue stick or white school glue.
Cut small bits of white paper and add to the edges to create "shine" and give it more life.
Your stingray art is done unless you would like to create the watercolor background. You could also glue this stingray to construction paper to create a different type of stingray art project.
Maybe even let the kids use their imaginations and create their own bespoke backgrounds for their Stingray craft.
If you want to go ahead with your watercolor background to go with this Stingray craft then download the bubbles and starfish templates and cut out.
How To Paint Your Watercolor Background
Prepare a surface with newspaper or a vinyl tablecloth for easy cleanup.
Set up watercolor paints in shades of blue that you'd like to use.
Mix in some green and yellow for even more color.
Coat your paper in water until it's damp but not soaked.
Use a paintbrush for this step.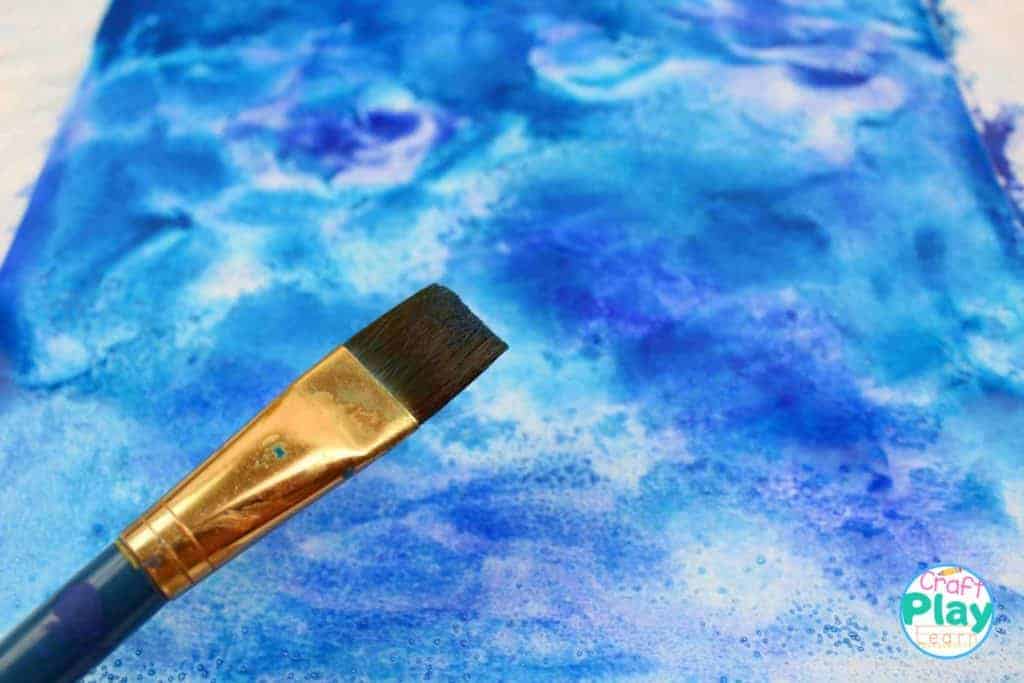 Add the watercolor paint and cover the paper.
Mix in some various shades of blue until you're happy with how it looks.
Sprinkle a few pinches of salt across the wet paint. It's important that you do this while the paint is wet, otherwise it will not work.
The salt will create the paint to separate and cause an explosive looking effect.
Allow the paper to dry completely. This will take awhile since it was so wet.
Once dry, glue the bubbles, starfish and stingray onto the paper.
These would make wonderful bulletin board crafts. Print the stingray in various colors for a really fun look!
Download your free Stingray template here! You can also download the Bubbles template and Starfish template too!
You may also enjoy the following ideas!
Busy now? Why not pin this fantastic resource for later? Pinning supports my blog and allows me to create more content to help little ones learn. I'm truly grateful for any social shares.
About Angela Milnes
Angela Milnes is a Qualified Early Years Teacher who specialised in Preschool and Kindergarten teaching. She has a wealth of experience teaching young children and is passionate about kids crafts, preschool music and reading with kids. Don't forget to follow our fun crafts and creative ideas over on Facebook.