Here Is An Easy Grinch Party Food Idea – Grinch Themed Celery Sticks
Are you looking for fun and simple grinch food ideas? Then you've come to the right place. Today we have this super fun and easy Grinch Celery Sticks idea which I am sure you will love.
The Grinch is a family favourite and one story we enjoy reading during the Christmas season. This fun food idea can help extend your child's interest in reading how the Grinch stole Christmas and is a healthy fun food idea for the little ones to try!
I am an Amazon Associate, I can earn from qualifying purchases.
How To Wash Celery
Before eating celery you will need to wash it.
Celery leafs and stalks may have dirt and germs inside the folds and root ends. The best way to wash celery is to clean each individual stalk with your hands or a vegetable brush.
It's easier to break the celery stalks apart in order to clean them. Run them under water as you wash your celery sticks. As the celery will last longer uncut, only cut the sticks if you are planning to use them all straight away.
Ingredients Needed For This Grinch Party Food Idea

What's Needed
Celery
Guacamole (homemade or store bought)
Yellow Candy Balls
Black Decorating Gel
Black Food Writer Pen
Directions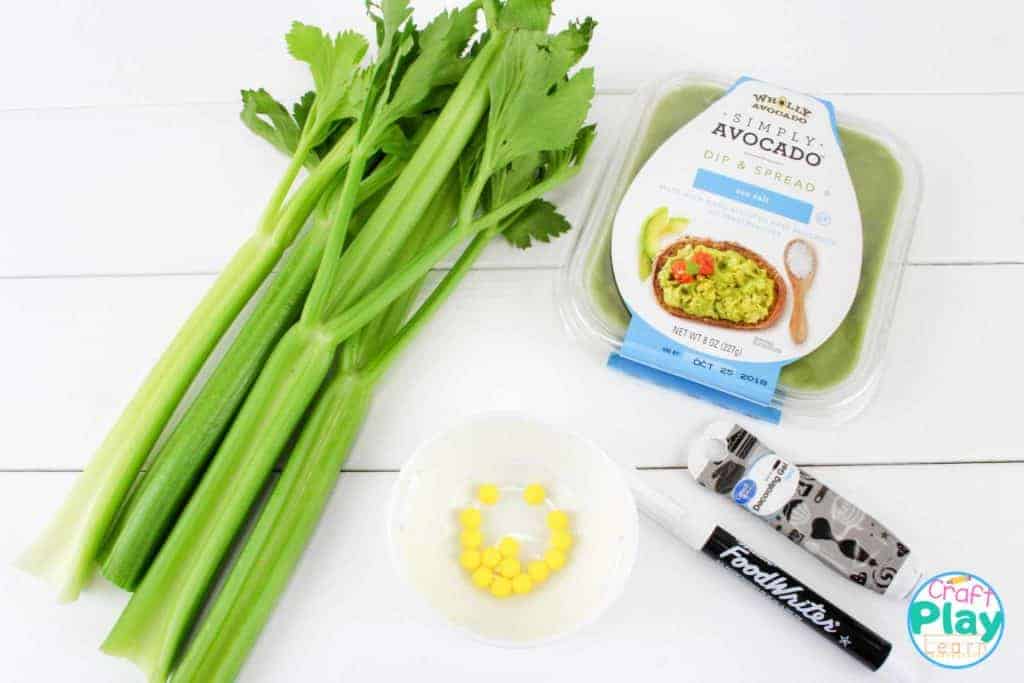 How To Make Grinch Celery Sticks
Cut celery into 2-3 inch pieces. Save some of the celery leaves for the hair.
Spread the guacamole on each piece of celery and insert a celery leaf on the
top.
With the black food writer pen, draw eyeballs on the yellow candy and place 2 eyes on each piece of celery.
Then, with the black decorating gel, draw on eyebrows, nose, and a mouth.
Enjoy this fun healthy snack!
More Grinch Ideas For Kids
Grinch Pom Pom Christmas Ornament
The Grinch Handprint Christmas Card
Busy now? Why not pin this fantastic resource for later? Pinning supports my blog and allows me to create more content to help little ones learn. I'm truly grateful for any social shares.
About Angela Milnes
Angela Milnes is a Qualified Early Years Teacher who specialised in Preschool and Kindergarten teaching. She has a wealth of experience teaching young children and is passionate about kids crafts, preschool music and reading with kids. Don't forget to follow our fun crafts and creative ideas over on Facebook.