Dr Seuss Lorax Craft and The Lorax Reading Resource Idea
The Lorax is a fantastic children's rhyming book written by Dr Seuss. I have to admit, I did not discover this book until I was an early years teacher, however The Lorax has become one of my favourite children's books and I love the crazy and wacky story along with the rhyming and lessons the story teaches.
Today I am sharing this fantastic wooden slice The Lorax Craft idea. Creating learning resources for children is one way to get them engaged and enjoying reading just a little more.
The Lorax crafts and activities can be fun for children and you can make these Dr Seuss learning resources on your own or as a fun activity with the kids.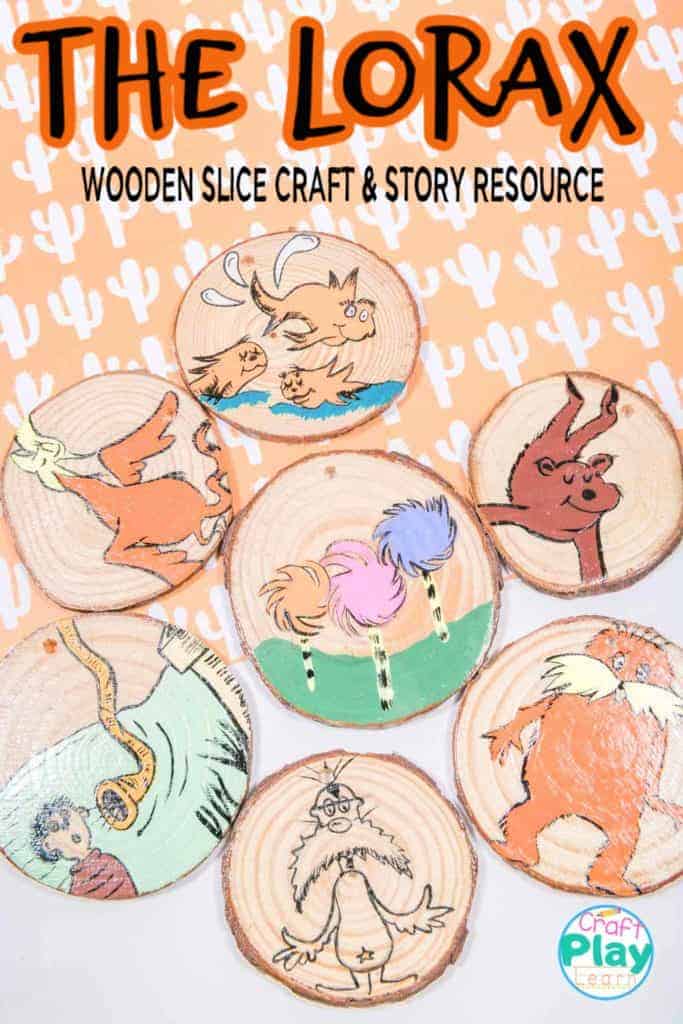 I am an Amazon Associate, I can earn from qualifying purchases.
Supplies To Make This Dr Seuss Lorax Craft
To create wooden slice reading resources there are a selection of things you will need. You have the option to draw the characters using a pencil before painting and you can use acrylic paints with a paint brush or use posca paint pens. The choice is up to you.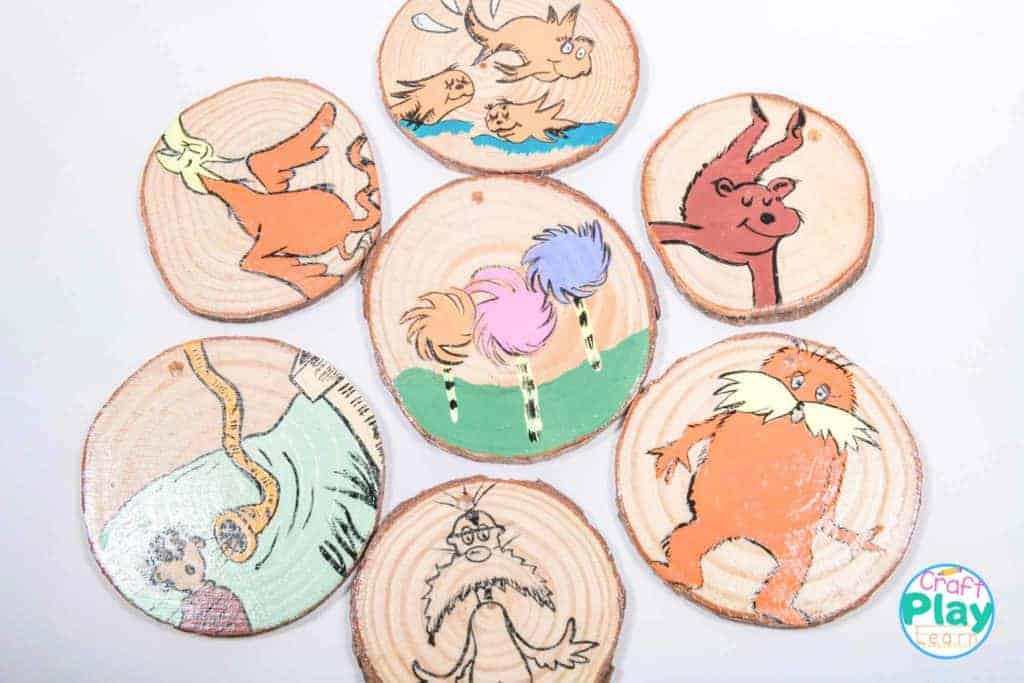 How To Make Lorax Wooden Slices
Everyone has a different skill level. Whether your drawing freehand, have fantastic drawing skills or not, all you need to do is find an image of The Lorax and The Lorax Characters and Truffula trees and give it a go.
I like to use a pencil and eraser when I paint Dr Seuss Characters because it allows me to get my outline right before I begin the painting process. This is totally optional and you may want to fig straight into the painting.
Once the paint is dry you can outline the characters using a black sharpie or posca paint pen.
How To Paint The Lorax
When painting The Lorax, you will need four colors, orange, yellow, white and black. Simply paint the Lorax Moustache using yellow paint and then cover the rest of his body in orange. Add white for the Lorax eyes and use a black sharpie or black posca pen to outline your Lorax character.
Story Resources For Kids
Creating Story resources for children such as these Lorax Wooden Slices can be a fun craft and Dr Seuss themed activity but it's also a great way to Build a collection of resources to help make reading more engaging and fun.
I am a huge fan of reading props, puppets, story stones and wooden slices and these preschool reading resources are really great visuals to aid learning in the classroom or at home.
You might want to watch The Lorax movie with the little ones and don't forget to purchase The Lorax Book if you don't already have it in your collection. It's a great story and teaches some things about the environment and looking after the world in which we live.
I really hope you enjoy this fun Dr Seuss activity. Let me know how you get on creating your own set of The Lorax characters, I'd love to see them!
Busy now? Why not pin this fantastic resource for later? Pinning supports my blog and allows me to create more content to help little ones learn. I'm truly grateful for any social shares.
Check Out Our Lorax Paper Plate Craft Here! You may want to create this as a "The Lorax earth day craft idea". Now that would be fun!
About Angela Milnes
Angela Milnes is a Qualified Early Years Teacher who specialised in Preschool and Kindergarten teaching. She has a wealth of experience teaching young children and is passionate about kids crafts, preschool music and reading with kids. Don't forget to follow our fun crafts and creative ideas over on Facebook.