Getting your little one involved in craft ideas is a great way to keep him busy and entertained, and if you're planning to focus on beach and sea themed crafts this time, we've got just the perfect thing for you!
This DIY seashell turtle craft idea is great for growing kids, and helps them put those seashells that you picked up on your last trip to the beach to use! How cool is that? Plus, it is easy as heck!
I am an Amazon Associate, I can earn from qualifying purchases.
How To Collect Shells
While a trip to any local beach can get you and your little one the opportunity to get up close with sea life and collect the shells, we know that it isn't always possible, especially if you live nowhere near a beach, or can't get there for whatever reason.
Thankfully, most craft stores today do have fake seashells that you could put to use. Pick them up on your next trip there- they're super affordable too.
Supplies For the Seashell Turtle Craft
Got a handful of seashells to work with? You need only a bunch of additional supplies to get started on this awesome seashell turtle craft idea.
How Do You Make A Turtle Shell Craft?
Begin by applying two coats of green paint to the shell. Allow the paint to dry thoroughly.

While the paint dries, you can cut out the turtle legs and tail. Using your green craft felt, cut out simple elongated ovals to use as the legs and a simple small strip to use as the tail.

Once the green craft paint is dry, you can add the legs and tail. Add a dab of glue to each and press to the underside of the shell.
Now, add the googly eyes to the shell. A drop of glue on the back of each should hold the eyes on in place.
Your seashell turtle is now ready to be displayed! To give your kid's creative side a little boost, you could also encourage him to pick up any book from his book collection, and try to recreate a character out of it using the seashells. Even if what he's working on doesn't seem perfect, don't stop him or try to correct him. That's the whole point behind getting him to be creative. Right?
Teaching Kids About Sea Turtles
Teaching your little one about different forms of life can be a such a fun and enriching experience, and crafts are a great way to do it, since they offer your kid that hands on experience too! You can also take it up a notch by picking a few good ocean or sea themed books and making them a part of your kid's bedtime routine.
If you're looking for more fun sea or ocean themed crafts for your toddler, we have you covered! Here are a few of our favorite picks you just can't go wrong with.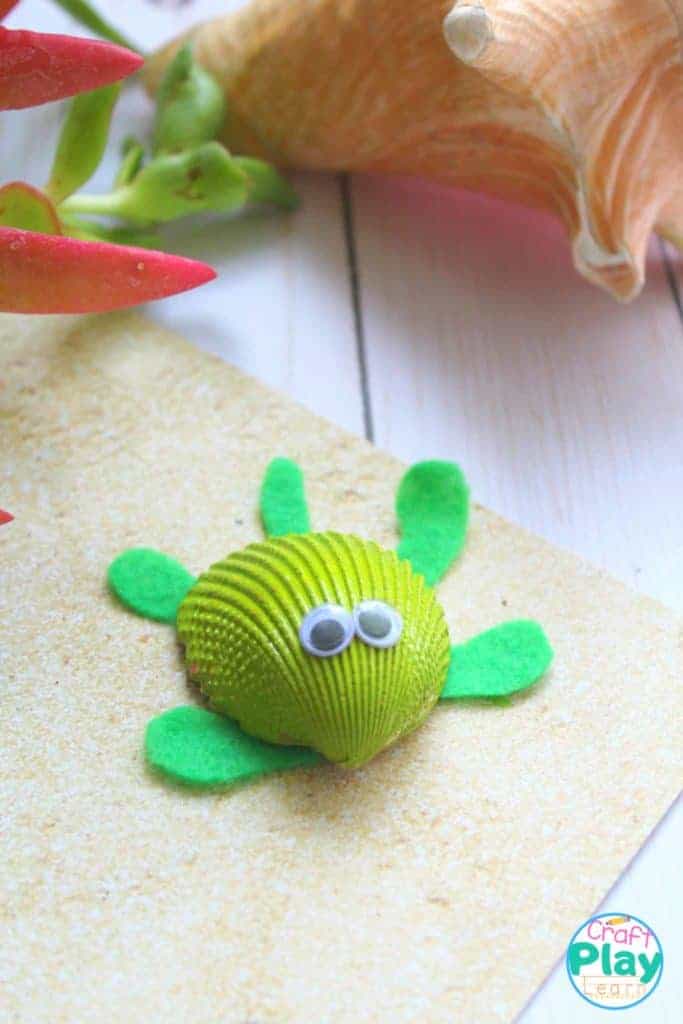 Busy now? Why not pin this fantastic resource for later? Pinning supports my blog and allows me to create more content to help little ones learn. I'm truly grateful for any social shares.
About Angela Milnes
Angela Milnes is a Qualified Early Years Teacher who specialised in Preschool and Kindergarten teaching. She has a wealth of experience teaching young children and is passionate about kids crafts, preschool music and reading with kids. Don't forget to follow our fun crafts and creative ideas over on Facebook.