Easy Cat In The Hat Preschool Craft Using Popsicle Sticks
If you're looking for a simple Dr Seuss Cat In The Hat ideas then this Cat In the hat preschool craft may be a real winner. Using only a few resources the kids can really enjoy this fun Dr Seuss Craft idea and it won't take too long to make!
I am an Amazon Associate, I can earn from qualifying purchases.
Who Wrote The Cat In The Hat?
The Cat In The Hat was written by Dr Seuss. Dr Seuss was an American writer and illustrator from Springfield, Massachusetts. Dr Seuss wrote many children's books and his Cat In The Hat book is one of the most popular.
You may want to check out our list of Popular Dr Seuss Books here!
Supplies Needed For This Cat In The Hat Activity Craft
How To Make A Cat In The Hat Hat
Using two large craft sticks as support, glue one large craft stick on the bottom, followed by 13 small craft sticks on top to form a hat.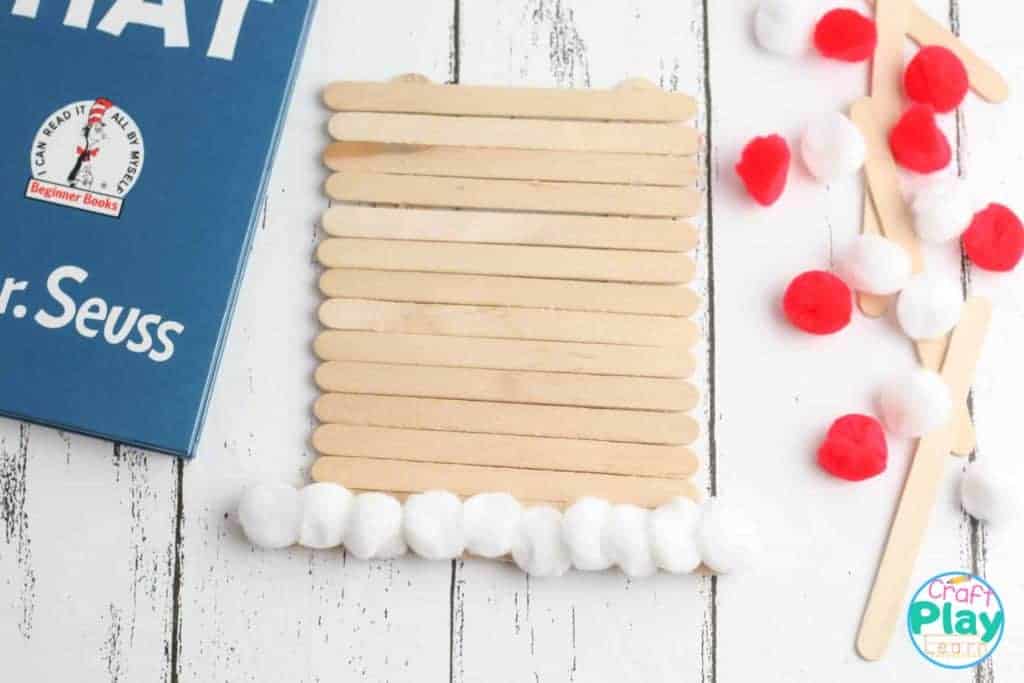 Glue one row of white pom poms on the large craft stick, followed by a red row of pom poms.
Alternate between rows of red pom poms and white pom poms until all of the craft stick base is covered.
It's that simple. This is a super fun craft and uses only a few supplies which is great when you are looking for simple and easy crafts for kids.
I think this Cat In The Hat kids craft is fun and you can also talk about the two colours, red and white and even count the pom poms as you have fun gluing and sticking with the kids.
More Cat In The Hat Activities
Dr Seuss Cat In The Hat Oreo Cookies
Busy now? Why not pin this fantastic resource for later? Pinning supports my blog and allows me to create more content to help little ones learn. I'm truly grateful for any social shares.
About Angela Milnes
Angela Milnes is a Qualified Early Years Teacher who specialised in Preschool and Kindergarten teaching. She has a wealth of experience teaching young children and is passionate about kids crafts, preschool music and reading with kids. Don't forget to follow our fun crafts and creative ideas over on Facebook.