Dr Seuss Cupcakes are perfect for a Dr Seuss Party
It's a bit of a Dr Seuss themed week here on the blog and today we are sharing these fantastic Dr Seuss Oh The Places You'll Go Cupcakes.
If you're having a Dr Seuss garden party celebration based or looking for a fun way to celebrate Dr Seuss day then I'm sure you will agree that these Dr Seuss cupcakes would go perfectly at any Dr Seuss themed Party.
So,, if your on the lookout for Dr Seuss desserts, Dr Seuss themed food, cupcakes or even an Oh the places you'll go cake, look no further. This is the tutorial for you!
Enjoy!
I am an Amazon Associate, I can earn from qualifying purchases.
Oh The Places You'll Go Cake
The thing I love about this fun Dr Seuss cupcakes recipe is that you have the option of making both these oh the places you'll go cupcakes or you could make one huge Dr Seuss Cake. You might even want to make both.
Ingredients For Oh The Places You'll Go Cupcakes
Here are the ingredients for this super fun Dr Seuss themed food.
How To Make These Cute Dr Seuss Cupcakes
Begin by mixing and baking the mini cupcakes as per the instructions on the box.
You can use a funfetti package or any other cupcake packet in the store.
There are plenty to choose from in Asda or Tescos for around one pound. You can also get one online or from Walmart in the US.
After the mini cupcakes are completely cooled, cut out a small hole in the middle of each one.
Fill each hole of your Dr Seuss cupcakes with sprinkles.
Next divide the whipped topping into 6 separate bowls, and mix in each food colouring colour.
Spoon the icing into the 6 piping bags.
Starting with your bottom colour, fill the top of the cupcake in a thin, circular pattern.
Using next colour, pipe a little bit smaller circle on top of the bottom colour leaving the edges of the first colour showing.
Whether you are making a Dr Seuss Cake or cupcakes the icing method is the same. 
Continue on with all your colours. You should have a tall, cone shape pattern on the top of your cupcake.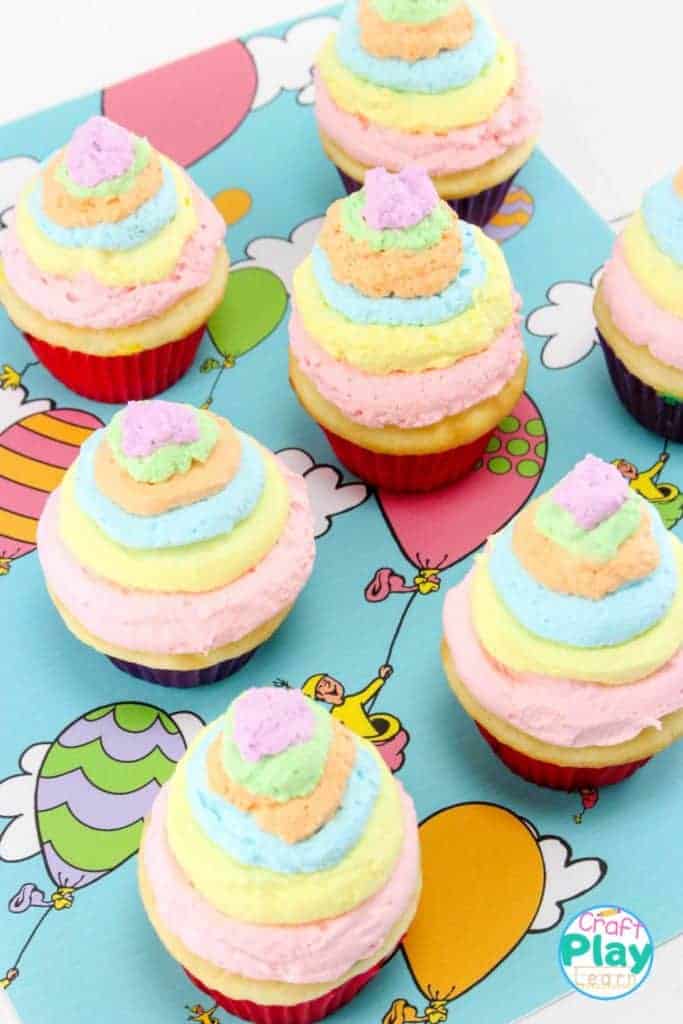 I hope you love these Dr Seuss Cupcake Ideas. Let me know if you try this out. I'd love to see your results.
You can also check out these Cat In The Hat Treats and later this week we have another special treat to share.
We also have some fantastic Green eggs and Ham, Lorax Truffula Tree Cupcakes and Grinch Celery sticks.
Busy now? Why not pin this fantastic resource for later? Pinning supports my blog and allows me to create more content to help little ones learn. I'm truly grateful for any social shares.
About Angela Milnes
Angela Milnes is a Qualified Early Years Teacher who specialised in Preschool and Kindergarten teaching. She has a wealth of experience teaching young children and is passionate about kids crafts, preschool music and reading with kids. Don't forget to follow our fun crafts and creative ideas over on Facebook.